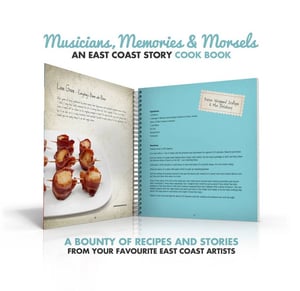 $

35.00
Winter Sale - $15 savings until the end of December!
*Regular price was $35.00+$15 tax/express shipping = $50.00
SALE PRICE is $35.00 (taxes & express shipping included)!
*(Cut off date for orders for Christmas shipping is Dec. 19th)*
Lana will also autograph each book with:
"Happy Reading & Cooking! ~ Enjoy, Lana Grant"
(If you would like it autographed to someome in particular, i.e. 'Jane'...then please note in the special instructions when placing order)
About the Book:
41 well known East Coast musicians and 5 House Concert hosts have contributed their favourite food memory story and most treasured recipe to this beautiful 162 page, full colour, metal coil bound Cook Book.
Each artist has a two page spread that also details a short bio and their website.
There is also a section in the book dedicated to raising awareness about Mental Illness. This features two heartfelt stories and two resource pages for finding the help someone may need.
This book was put put togther by Granite Records as a way to showcase the amazing artists from this region and as an awareness campaign for Mental Illness.
For the holiday, express shipping will be used (Cut off date for Christmas shipping is Dec. 19th).
An email will be sent you you once it has shipped for you to track.
* Please make sure you have entered your address and email correctly.*
The official book's website is www.musicianmorsels.com